I have been reading w/ amazement some of the posts about the NRA. Those posts do not even remotely resemble the NRA that I am a member of.
Yall need to join my NRA.
Let me introduce you to the NRA that I am a Life Member of.

My NRA does not send me any junk mail. On a regular basis they send me info on the political battles that are going on in Washington. They document the votes of all the legislators so that I know who my friends are & who the BGs are. I need to know these things so I can intelligently talk to people about the 2nd ammeddment & those that are trying to destroy it. Everything is always documented.

In every one of those informative letters there is an opportunity to support them financially. Some support the very issue the mailed report is about. Others support the NRA that I am a member of in a general way.
Every piece of mail I have ever received from them contained info that I really needed to know & that no other organization that I know of would tell me about.

I have never received any mail from them that asked for $$$$s w/o telling me what it would be used for. Therefore a couple of hundred page detailed financial report of their huge $$$$$$$$$$$$$$$$$$$ budget is not necessary.
I have wondered many times about those who complain. I think they really know they ought to be involved financially. They should give up a soda a day for a month or eat at Subway instead of Ralf & Kacoos. The signers of the Declaration of Independance Pledged their lives, their fortunes, & their sacred honor. They knew full well that until their fortunes were pledged, their life & honor would never be. It is the same w/ men today.

My NRA is the most effective representative I have in Washington. They truely represent me while the politicians there try to convince me they are leading me where I really need to go.

I dont understand politics very good but I sure do understand what my NRA is doing for me personally. Let me show you what MY NRA does. Hope you decide to join up.

I am a member of Angelina Rifle & Pistol club. Range Safety Officer there.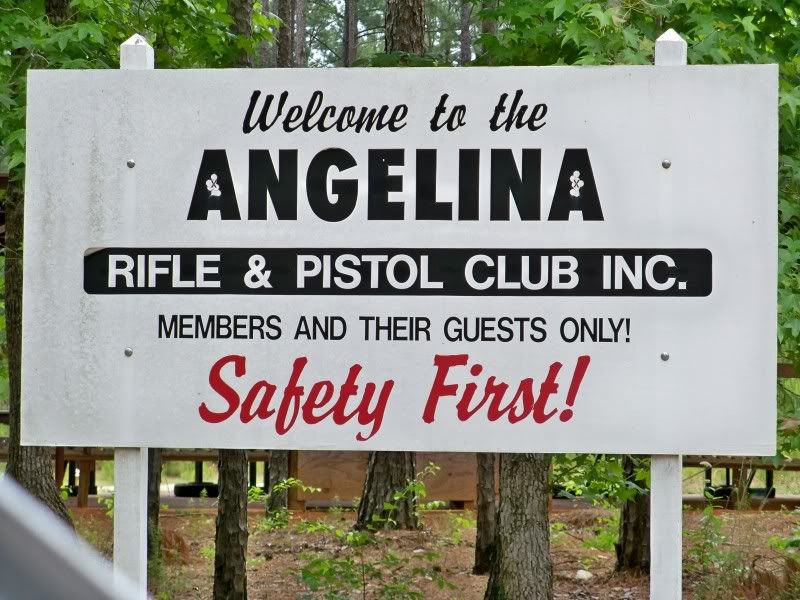 My NRA loaned my shooting forefathers the $$$$s to buy the 60 + acres know as Angelina rifle & Pistol Club. If it had not been for the NRA there would not be an ARPC as we know it today. It would be 60+ acres that some developer bought & built houses on the place where folks used to shoot at a target in front of a dirt pile.

We have been responsible shooters & thankful supporters of our NRA & have worked hard to keep up & improve the range. Every year My NRA helps us w/ another improvement. These are the ones I know most about because I was hands on involved w/ them as Safety Officer.
$5,000.00 Grant from my NRA to build a 50 yrd 22 rimfire practice & match range.
15 concrete benches for right or left hand shooters, on a slab & covered. I bet my NRA has helped a lot of the ranges that the complainers shoot at too.
Here is what my NRA does. This was the first project my NRA made possible after I was elected Safety Officer.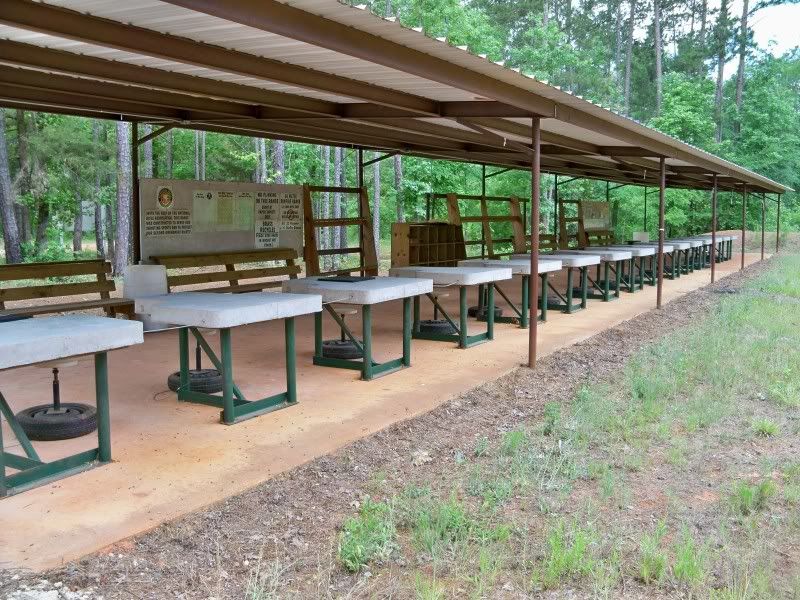 Well, my NRA really is interested in kids learning to shoot safely. They dont just talk about it & run ads about it. They do something about it. About 3 yrs ago my NRA gave us another grant to build a 25yd 22 rimfire youth rifle range. I think that one was $3,000.00. My NRA made it possibe when we could not have done it on our own. Our dues are $85.00 a yr so folks that live in the Piny Woods & dont make big city wages can still afford to shoot, teach their kids & grandkids to safely shoot.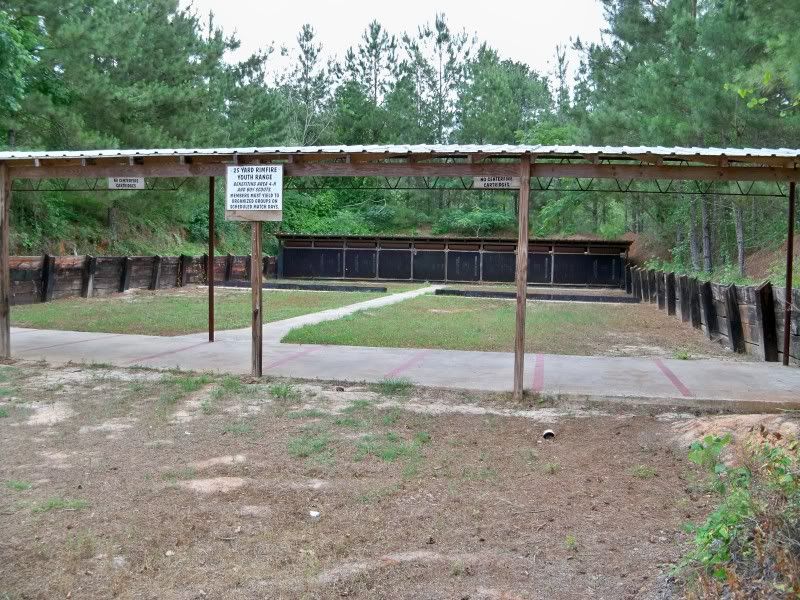 Without my NRA we could not do near the work w/ kids that we do now.
Our restrooms had just flat wore out. They were old & we needed new ones. Ladies need good restrooms even worse than men. My NRA is really interested in helping ladies learn to shoot & to enjoy the sport. They are very interested in helping them learn defensive shooting. My NRA helps the handicapped too. With the $$$$s they gave us we were able to make the restrooms wheel chair accessable.
My NRA gave us another $5,000.00 grant about 18 months ago to build these new restrooms. For that huge help we put some thank you signs up. Whether you realize it or not I bet my NRA has helped a bunch of the ranges that many of the complainers shoot at.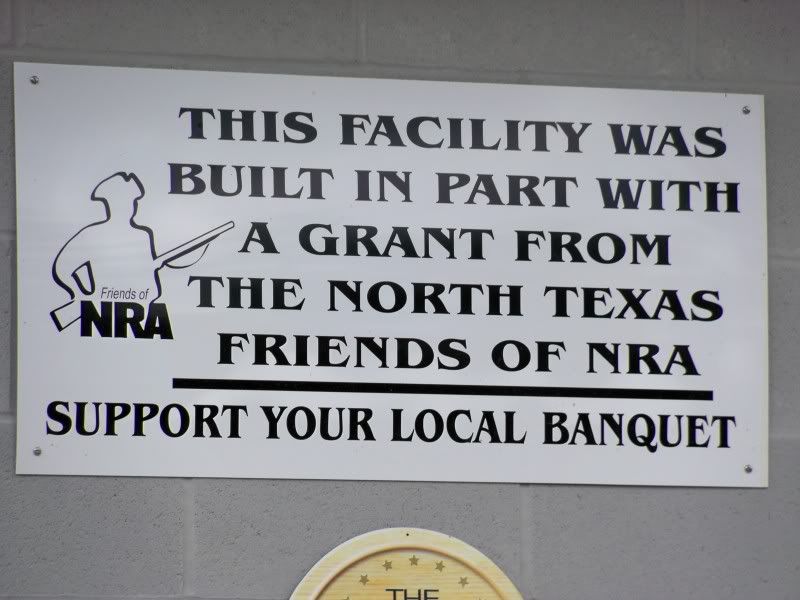 I dont know what the next BIG project our Board of Directors has in mind but I dont have any doubt that we can count on my NRA to help us w/ it.
My NRA helps other ranges just like ours. There is no doubt in my mind that my NRA represents me in Washington & helps me just a few miles from my house.

Matter of fact I will bet my Red White & Blue suspenders that my NRA represents you in Washington & helps a range near you too. Come on. How bout gettin on the support wagon w/ me.
LT