Hello. Today I managed a quick trip to the range. The purpose was two-fold: Check the sights on my friend's new S&W Model 25-7 5"bbl .45 Colt revolver and check the function of my S&W Model 64-1 4" .38 Special, which I recently purchased NIB.
This is not my revolver. It belongs to a close friend now preparing to go back and fight for us in the Middle East. He got to shoot it twice before leaving and the POI at 15 yards was about 3" high. A local 'smith replaced the rear sight with the lowest blade offered by S&W. Happily, the gun now hits where it should with 250-gr. CSWC's handloaded to about 900 ft/sec...and in very tight groups as well! Adjustment is nearly gone with the sight bottomed out save 2 clicks but I suspect it will be satisfactory.
I also brought a very plain revolver, one that I bought NIB (Well, the owner fired a few rounds through the gun, cleaned it and put it away for years) and had timing issues the first time I shot it. The problem was that the cylinder would lock and not rotate in double-action. Turned out to be a timing issue in which the hand was just a wee bit long and trying to turn the cylinder before the cylinder stop could drop. He fixed it with but a few strokes of a fine file and stone...but I hadn't tested it though it worked fine in dry-fire.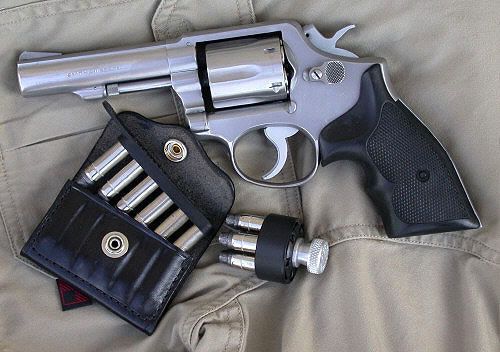 This Model 64 has a nice action out of the box but initially had a cylinder "lock up/release" problem that was quickly & inexpensively fixed but I will not trust any firearm I've not thoroughly tested, be it revolver or semiauto.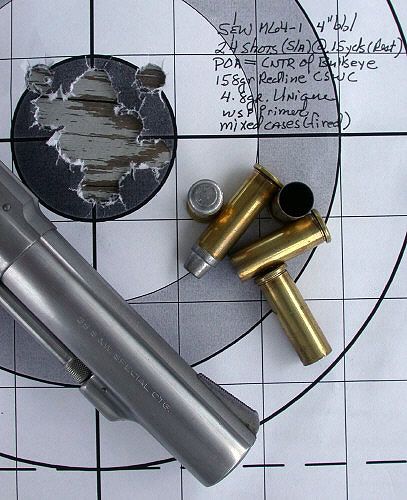 These shots were fired at 15 yards in single-action, while seated and using a two-hand hold. No effort at speed to be sure, I was checking POA vs POI and I'm happy to say that it was dead-bang "on" for a 158-gr. LSWC loaded over 4.8-gr. Unique. I have not chronographed this load, but it should be in the 840 to 860 ft/sec range I believe.
Satisfied that the gun would function (at least it did for four cylinders-full) and that POI matched POA better than expected, I fired a few more shots two-handed as well as strong and weak hand in both single and double-action in slow-fire at bullseye targets.
I then remembered Mr. Higginbotham's series of tests on how well one does or doesn't handle a handgun. (Mr. Higginbotham is a long-time law enforcement firearm instructor who posts on some other forums.)
I was satisfied that the gun would be plenty accurate so I considered that test passed. By the end of the session, I'd fired roughly 220 handloads and twelve factory Remington 158-gr. LSWCHP +P through the gun with no misfires, difficulty in extraction or any other problems so I am beginning to
think
that this revolver will be dependable.
As best as I remembered, Mr. Higginbotham's controlability test involves 5 shots in no more than 2 seconds inside a target about 5 1/2 x 8 1/2" and that it begins from a low ready position. Distance is 5 yards.
I didn't use that exact target. Instead, I drew my usual "Gort target" with the intended target being roughly the size of a coffee cup saucer. I also opted to try for six shots in 2 seconds rather than the five.
Certainly all shots would be fired double-action.
Here is the first attempt. The ammo is the above-mentioned handload. An IDPA shooter was not using his timer and graciously allowed me to borrow it. Time: 2.11 seconds.
Second attempt: 2.05 seconds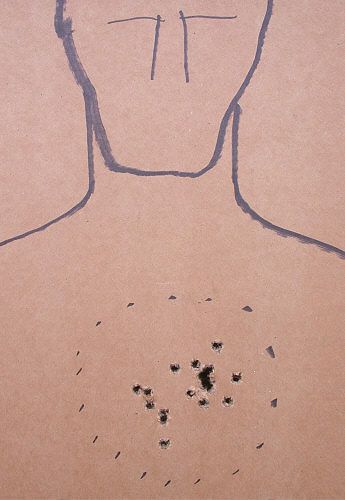 Third Attempt: 2.19 seconds
Certainly Jerry Miculek has nothing to fear from me but I
think
this test of Mr. Higginbotham's is certainly doable. The main thing that it reinforced in my pea brain is that the "flash sight picture" is certainly viable and something I strongly suggest using rather than simply pointing.
If you get the opportunity and your range doesn't forbid it, try Mr. Higginbotham's series of tests.
Best.