Hello. A few years ago I came across a used but like new Norinco 5" at a decent price and bought it. The thing fed flawlessly and grouped pretty well, but the POA vs POI resulted in groups that were high and right by a few inches at 15 yards and considerably more pronounced at greater ranges. The trigger pull left a bit to be desired and with the GI grip safety and spur hammer, my hand usually looked like I'd lost a fight with a pirahna after a hundred shots or so. (I am cursed in this regard.)
Anyway, it occurred to me that since I had a pretty decent parts bin, I might be able to tinker this pistol such that I could use it efficiently and still not have a bundle in it.
To make a long story short, parts were changed and there was some minor filing and stoning, but the job was not difficult. A drop-in Pachmayr grip safety (which actually did drop in and worked properly in this case) completed my job.
I did have a gunsmith install a King's Hardballer rear sight and an appropriate height front sight (I don't remember whose front sight, but it is staked and silversoldered) to the pistol. I shot it and made but tiny adjustments (via a stone) to the front sight and then had the 'smith blue the slide after polishing out some of the tool marks.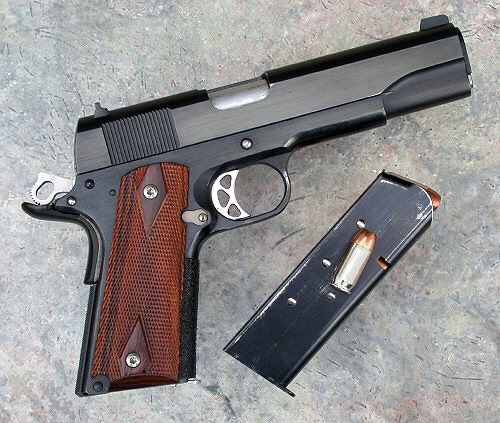 This is my "home tinkered" Norinco. It is not my most accurate 1911 pattern pistol, but it is "accurate enough" for its intended purposes: just knocking about and as a "serious" gun if need be.
I couldn't say just how many shots have gone through it, but I'd estimate around 2K. The gun has proven itself reliable.
This is accurate enough for many of my "needs" and reliability has been there, something I prize in any gun and require in one that might be called upon for self-protection. My only complaint with this gun is that my gun's particular barrel runs a bit slow compared to the same loads fired from Kart, Colt, SA, Kimber, or STI bbls, roughly 40 ft/sec. (This group was fired at 25 yards, slow-fire, while seated and with both wrists braced.)
As these are no longer imported into the US, most found here will likely be used. If not abused and at a decent price, I believe that they make a really nice base gun for customizing or can be good shooters as they come. The factory fixed sights are a tad small for me, but such is not necessarily the case for others.
So far I have not found a bullet shape that this Norinco will not feed.
Best.