Sorry for the long stream-of-consciousness post below, but REALLY would like everyone's help posting this info - think it could be really helpful to folks comparing guns.
Now that've I've found a new love with Smith & Wesson M&P pistols (casting aside my 13-year monogamous relationship with Glock), I've been trying to find a way to quantify why the grip on these M&P pistols fits my hands so much better than Glock. Obviously the pronounced beavertail and more rounded, ergonomic contours of the grip itself help immensely. But also the portion of the grip undercutting the beavertail and rear of the frame/slide is more pronounced (even on the compact models without beavertail, see photo comparison below)
From careful examination of inner workings of both guns, seems location of the trigger mechanism housing on the Glock (which holds the ejector and trigger spring) is set right in this sweet spot where thumb-to-index finger webbing sits - so there's not much fix for this even with a grip reduction, which only shortens the lower portions of the grip. Those familiar with detail stripping the frames of each type of gun will note the location of the rear frame pin on each - the Glock rear pin sits right in this sweet spot, the M&Ps is further back, above this area on the thinner portion of the rail, under the rear slide serrations.
So I took out my trusty $15 calipers from Ace Hardware and measured the distance from this undercut on rear of grip frame (where the web between your thumb and index finger rests) to the middle of the trigger on both my M&P9 vs. one of my Glocks and found something interesting. This "trigger reach distance" is nearly a quarter inch shorter on the M&P - despite it being basically the same overall size of gun, same type of action, same materials making up frame and slide, and same magazine capacity in equivalent size/caliber.
I have average size hands for a big guy, but those hands have relatively short fingers. As an example, my guitar playing brother has same size palms (measuring from wrist to base of fingers) but his fingers are at least a half inch longer than mine; and my guitar-playing mother has palms a half inch shorter than mine but her extra long fingers touch the tops of my fingers if we put our hands together. I mention guitar playing because both of them can do so very well and I can't even reach some of the strings to pull off certain chords they try to teach me without bending my wrist at an ackward angle.
Seems the same logic applies when selecting a grip that fits you best in a handgun. If you have small hands or short fingers, this trigger to rear grip distance needs to be shorter.
So got me thinking, every gun maker lists basic specs on their guns like overall length, width, height, and weight. But what may be the most important quantitative measurement of whether a gun will fit your particular hands is this grip-to-trigger distance, as well as a few other similar measurements. So I went about measuring this on a few guns as comparison.
Below photo and color-coded description shows what exactly I measured on various guns, with results below that in an attached Excel spreadsheet.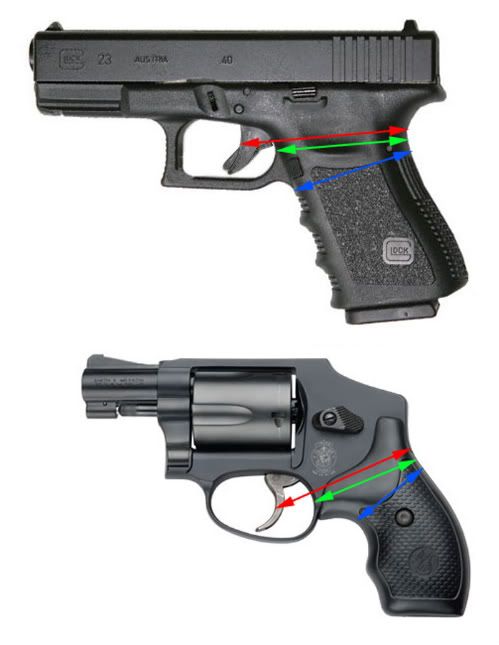 (A) caliper-measured distance between middle of trigger and point on back of grip where web between thumb and index finger sits; trigger in fully forward position

(B) same as #1, but with trigger depressed as much as possible to the rear
(C) the difference between these two measurements (another way to measure trigger travel distance)
(D) caliper-measured width of the grip, left to right (average if the grip width varies a bit)
(E) caliper-measured distance of the grip from back thumb/index finger web to just under the trigger guard (where your middle finger sits when gripping gun)
(F) caliper-measured distance of the grip from back thumb/index figner web to front of grip inside the trigger guard

(G) same location as F, but using a string or flexible measuring tape, measure the circumference of the whole grip in this area
Attached Excel spreadsheet is what I found for these measurements with various handguns I had access to measure (if anyone knows how to place this table inline in the forum text, let me know or feel free to place it:
What would be GREAT is if others could add to this thread with similar measurements from some of their guns so potential gun buyers could compare these numbers as a starting point to decide if a particular gun's grip is too big or too small for them as compared to another gun that fits them well. These numbers already confirm why I don't like DA/SA guns (too much reach to get to the DA trigger (even on a "thinner" single-stack gun like a Sig P239) and much greater overall trigger travel. If I had access to a trigger pull weight gauge, that would be an interest specification to compare as well.
Obviously PLEASE do these measurements with an UNLOADED gun