What are your shooting/training goals for 2018? I had a pretty good 2017 and punched some big ones off my list (a challenge I'm going to post in a separate thread). I really want to push myself this year. How about you?
One thing I'm working on this year is pistol accuracy. I'm also in search of another good local'ish training class to take. Might make it to Gunsite this year if the schedule works. Not holding my breath, but hope the state sends me an invite to school safety certification this year. Finally somewhat related, have to renew my first aid/cpr/aed cert this spring, get into a stop the bleed class, and find some better trauma training.
-----
Here's one drill I found on the web and have decided to master at 7 yards.
Dot Torture
Printable target:
https://pistol-training.com/wp-content/ ... target.pdf
Tried it at 3 and 7 yards. Here's a 3 yard target with 4.5 out of 50 out. Support hand is a challenge the other 2 misses were simple inattention.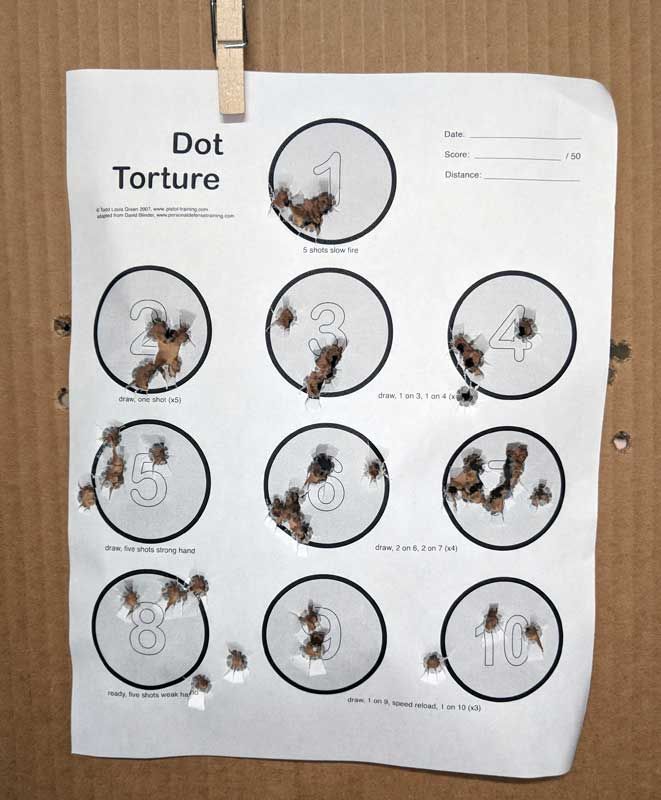 "Start at 3 yards. You have to get all 50 hits to pass. Once you can shoot the whole drill without a single miss, either increase the distance or add time pressure. For instance, try to finish the entire drill in under 5 minutes while maintaining 100% accuracy."
Dot 1 – Draw and fire one string of 5 rounds for best group. One hole if possible, total 5 rounds.[/*]
Dot 2 – Draw and fire 1 shot, holster and repeat X4, total 5 rounds.
Dots 3 & 4 – Draw and fire 1 shot on #3, then 1 shot on #4, holster and repeat X3, total 8 rounds.
Dot 5 – Draw and fire string of 5 rounds, strong hand only, total 5 rounds.
Dots 6 & 7 – Draw and fire 2 shots on #6, then 2 on #7, holster, repeat X4, total 16 rounds.
Dot 8 – From ready or retention, fire five shots, weak hand only, total 5 rounds.
Dots 9 & 10 – Draw and fire 1 shot on #9, speed reload, fire 1 shot on #10, holster and repeat X3, total 6 rounds.
In lieu of drawing from a holster (range constraint), I'm picking the pistol up from the rest.
How are you challenging yourself? Got any great ideas? I'm looking to steal from the best.