Moderators: Charles L. Cotton, carlson1
The Second Amendment Primer
by Les Adams and
The U.S. Constitution: A Reader
by the Hillsdale College Politics Faculty
The left lies about everything. Truth is a liberal value, and truth is a conservative value, but it has never been a left-wing value. People on the left say whatever advances their immediate agenda. Power is their moral lodestar; therefore, truth is always subservient to it. - Dennis Prager
---
Senior Member
Posts in topic: 2
Posts: 723
Joined: Sun Jan 03, 2016 7:23 pm
Contact: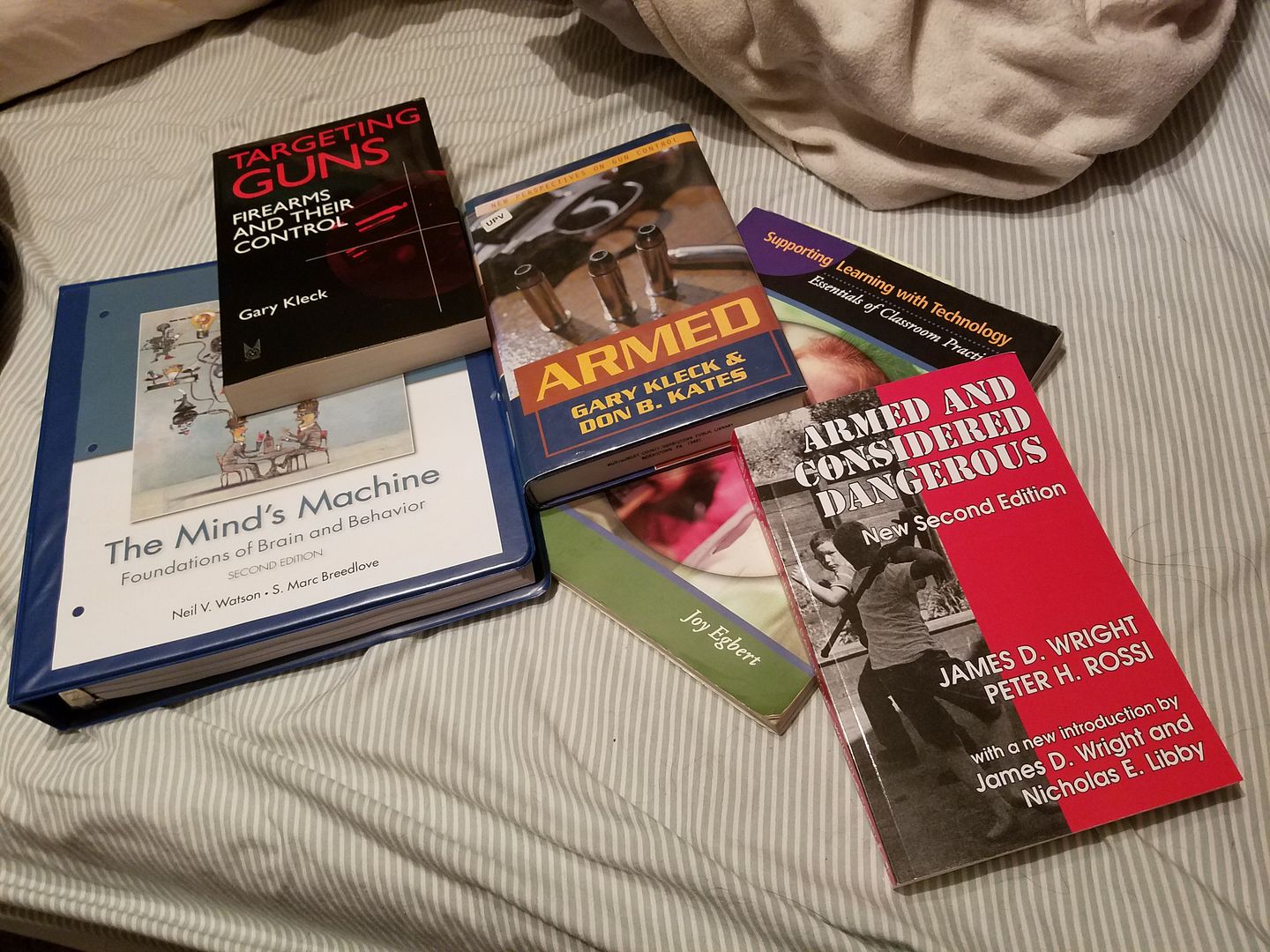 I'm being forced to read these under extreme duress and threats of failing grades....I'm a fiction kind of girl.

"I can see it's dangerous for you, but if the government trusts me, maybe you could."
NRA Lifetime Member
---
Senior Member
Posts in topic: 2
Posts: 723
Joined: Sun Jan 03, 2016 7:23 pm
Contact:
"They assert that gun ownership involves no real choice; it is actually only a preconditioned manifestation of sexual inadequacy or perversion. (An amusing side note to this assertion is that, though it purports to rely on Freud, it reverses his actual view. Freud saw people who fear or loathe firearms, knives, etc. as sexual hysterics-unconsious victims of a terror that causes them to hysterically confuse long objects or pointed weapons with the penis.)" Excerpt from: Armed by Gary Kleck & Don B. Kates

"I can see it's dangerous for you, but if the government trusts me, maybe you could."
NRA Lifetime Member
---
Banned
Posts in topic: 5
Posts: 2593
Joined: Mon Jul 28, 2014 5:16 pm
Location: North Dallas
Liberty's Last Stand
President Barry Soetoro, the villain of bestseller Coonts's provocative thriller, is due to leave office in five months when he uses a convenient terrorist attack to declare martial law, adjourn Congress, suspend the Constitution and the Bill of Rights, and become the dictator of the United States. He fires CIA director Jake Grafton (last seen in 2013's Pirate Alley) and throws him in a federal detention center in West Virginia along with hundreds of conservative politicians and political commentators. Grafton's ex-CIA pal, Tommy Carmellini (also last seen in Pirate Alley), decides he's going to bust his old boss out of jail. Meanwhile, Texas secedes from the union and begins seizing U.S. military bases. Soetoro's opponents have a long list of gripes: he's a "self-proclaimed black messiah," "Soetorocare" is a disaster, and EPA regulations are "designed to save the climate at the expense of the working men and women of Texas." Coonts's excellent action scenes, which shift between Tommy's jailbreak scheme and the civil war with Texas, grind to a halt as characters stop to give fervent speeches about freedom. Those who don't care for Obama or his policies will find a lot to like.
http://www.goodreads.com/book/show/2724 ... last-stand
"You may all go to H3ll, and I will go to Texas." - Davy Crockett
"Fast is fine, but accuracy is everything." - Wyatt Earp
NRA Life Member
לעולם לא תשכח
---
Moderator
Posts in topic: 1
Posts: 6458
Joined: Fri Oct 20, 2006 4:50 pm
Location: Outskirts of Houston
The Black Widow, by Daniel Silva, was recommended to me by Newt Gingrich. Yes; seriously. Highly recommended.

Of course, Gingrich also recommended it to anyone else who was watching the same Fox News interview. But still.

I was not familiar with Silva. The Black Widow is the 16th book in a series featuring the Israeli super-agent, Gabriel Allon, and it's backdrop is current world events and the rise and threat of ISIS. Now, I'm generally not a fan of top-billed-protagonist series fiction. When I saw this was 16th in a series, I almost ignored Newt's recommendation because I was ready to bet I would never make it beyond 20 pages before shelving it. Life is too short to tolerate fiction writers who can't write well. I enjoy the Kindle First feature in Amazon Prime because it provides a chance to read authors new to you once per month for free. I generally can finish reading three or four of those 12 books each year--the others are too abysmal to wade through--and am overjoyed when I find one that I actually enjoy. I'm picky.

I would dearly love to find an author who can write military/espionage fiction with a successful melding of subject matter expertise, solid storytelling skills (characterization, plot, pacing, dialogue, scene/setting, POV), and skillful prose and style. For me, it is not an equal one-third balance: deft prose and a distinctive voice can overbalance deficiencies in subject matter and storytelling, but never the other way around. Adequate language skills is a minimum basis for admission...and for readers, that is far more rare in the digital age than in the days of printed books when a publisher was required to invest significant money and staff editors in the production of a book.

The "Buy" button on Amazon had to wait--despite Gingrich's recommendation--until I did some research on Daniel Silva. One thing that immediately stood out was the early stages of his initial career as a journalist, when the UPI appointed him a Middle East correspondent and he relocated to Cairo, Egypt, and traveled the region. He later left UPI to work for CNN's Washington Bureau. As a convert to Judaism, he's made frequent and numerous trips to Israel. So knowledge of the Middle East and a character who is an Israeli secret agent was looking plausible.

His debut novel, The Unlikely Spy (1996), hit the New York Times bestseller list, and stayed there for five weeks. He left CNN to write fiction full-time. He's now written 19 novels, all but three in the Gabriel Allon series. All 19 have made it on the New York Times bestseller list. Two of the Allon novels won the Barry Award for Best Thriller.

Assuaged that my $15 may not be wasted after all, I clicked that "Buy" button.

Let me clear up immediately that Daniel Silva does not peg my skillful prose and style meter to the green, but his ability is adequate. I found only one grammatical error in the book--a missing participle--so far better than most. He does display a particular idiosyncratic expositional habit that I won't describe because you may never notice it, but it did grate on me every time I encountered its use. Overall, though, the book was good enough that I could soldier on.

The zinger: subject matter expertise. I have no idea how much of the presentation of the political clime and backroom relationships in the Middle East is real, how much of the presentation of various countries' intelligence operations is real, how much of the presentation of geographic setting information is real or, most importantly, how much of the presentation of the growth and activities of ISIS is real. Well-researched or firsthand knowledge of the actual environment is unclear...and being unable to make that distinction is a good thing for the reader.

He sold me. None of my own news-junkie exposure could negate anything presented in the book, and Silva quite capably had me suspend disbelief and buy into the total possibility of the veracity of the story. No mean feat ever, but this book amps the complexity by being set in Israel, Jordan, Syria, France, England, and the U.S., by a breadth of characters equally as diverse and, after a satisfying conclusion, left me saying, "Yes; I'll buy the next book in the series because I want to see what comes next for some of those characters."

The plot was cohesive, believable, and well-paced. The prose style is unremarkable, but clean and legible. Descriptions are adequate, at some points rising to very good. The (arguably) principle protagonist, Gabriel Allon, is the subject of 15 previous books. It's entirely possible that Silva has grown a bit tired of him and is heading into a slightly different direction. I can't say I'm going to rush to read the earliest novels in the series, but I might. Introduced in The Black Widow was a new, female character, and her presentation is one reason I'll definitely buy the next book in the series...then decide about looping back to the earlier ones.

All in all, Daniel Silva's The Black Widow gets a thumbs up.
Join the NRA
or upgrade your membership today. Support the
Texas Firearms Coalition
and subscribe to the Podcast.
I've contacted my State Rep, Gary Elkins, about co-sponsoring
HB560
. Have you contacted your Rep?
NRA Benefactor Life Member
---
Senior Member
Posts in topic: 3
Posts: 1259
Joined: Tue Aug 05, 2014 11:46 am
Location: Harris County
I'm almost finished rereading the Freehold series by Michael Z. Williamson, published by Baen. Military SF.

If you like science fiction w/ out all the SJW dreck that crowds the field these days, Baen is the place you want to spend some time. Bonus, they hate DRM and their books are available in every popular e-format, DRM-free. They also offer a large free reading library (complete works) if you'd like to sample authors before you buy.
LTC / SSC Instructor. NRA - Instructor, CRSO, Life Member.
Sig pistol/rifle & Glock armorer | FFL 07/02 SOT
---