Hello. I went to the local gunshow today hoping to find maybe a clean M64 or M10. I saw no examples of the first and only one of the second, though there were quite a few makers' revolvers present.
I looked at one obviously used S&W Model 66 and while it had a nice action, the price was too high and I believe part of the "nice action" included a cut down strain screw. I passed on the gun.
I kept telling myself as I checked each aisle, "Here's where I'll find a new Model 10 HB or maybe even a new NYSP Model 520 and at the right price."
That didn't happen but I did run into a friend of mine that I hadn't seen in years. He had a brand new, unfired Model 66 21/2" snub he'd never fired. The regular S&W service stocks were not on the gun; it had a set of checkered boot grips instead. The action was nice but full-powered and there was absolutely no end shake that I could find and the timing was positive with but a tiny amount of lateral play in the cylinder; no blemishes a tall on this one so I coughed up the money.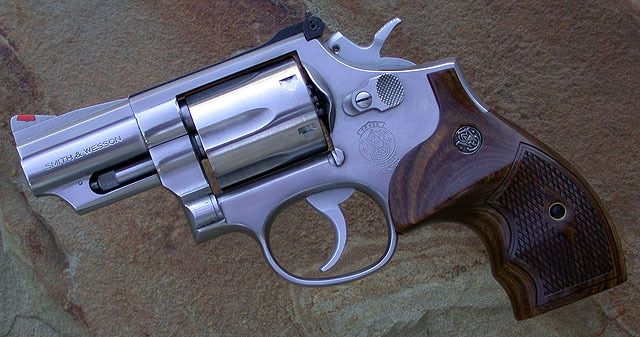 All in all, I'm pleased with this purchase. I'll shoot this one enough to "be sure" and then it will probably be loaded with a mid-power .357 load for around the house.
Driving home I remember those days so long ago when I would go to Mr. Pierce's gun shop and look around at what used handguns had come in that week! I remember moving all those darned ol' Model 58's out of the way to check out this or that, or deciding, "No, it's a good price on that Model 27 but I already have two 3 1/2" guns and a couple of the 5" ones, too. I won't buy it." Man, if I could only go back, even for just one day. I remember passing on more than a few really nice Model 10's that were slick as the proverbial gut from the factory and priced nice. "Naw, I'll wait. You can always get Model 10's like these."
Wrong!
Anyway, I am pleased with this Model 66-2. Unpinned and not recessed is about as "new" as I care to get with S&W's.
Best.